At-Home Vitamin D Test Kit
Check Your Levels Quickly, Easily and Affordably
At Home Vitamin D Test, Comprehensive
$89.00
Description
Our vitamin D kit offers the most complete at-home test to quantify vitamin D2, vitamin D3 & total vitamin D 25-hydroxy levels. Measure concentrations to rule out deficiency and confirm adequate supply levels to maintain optimal health and well-being.
Measures D2, D3, & Total Vitamin D 25-Hydroxy levels
Simple at-home finger prick collection
Available for ages 2+

Enjoy: 40% OFF | Get it for: $53.40
Use code at checkout: HEALTHY40
4U Health Vitamin D Comprehensive Test Kit
Measures 3 Types of Vitamin D 
4U Health's Vitamin D test quantifies Vitamin D2 and D3 along with Total Vitamin D 25-hydroxy.
Vitamin D2
Ingested into the body. D2 is present in some fortified foods (milk, eggs, and bread products), fatty fish (such as mackerel, salmon, or sardines) & supplements.
Vitamin D3
Produced by skin exposure to the sun. D3 is also available as a supplement.
Total Vitamin D 25-Hydroxy
The total concentration of Vitamin D 25-Hydroxy (D2+D3) is used to estimate the reserve of Vitamin D in the body.
Screen for low levels of Vitamin D so you can treat it with supplements before it causes health problems
Vitamin D is a cornerstone of good health. Unfortunately, about 42% of the US population is considered deficient in Vitamin D. But wait, there's more. Vitamin D isn't just critical for adults, but especially children. About 1 in 10 kids in the US are also deficient in Vitamin D, and as many as 60% could have "suboptimal levels."
From the comfort of home, you can easily screen and monitor the body's level of Vitamin D. This at-home lab test classifies your Total Vitamin D into one of four categories – target optimum supply levels to maintain abundant energy, vitality and well-being.

Easily collect a finger prick sample from the comfort and privacy of your own home
Your Vitamin D test kit includes everything required for your tiny blood drop sample. We provide detailed instructions and a prepaid shipping label to return your sample to the lab.
Parents, we've got you covered – test any child 2 years and older. Finger prick collection is easy and painless; it's how most hospitals collect blood from newborns.

Our tests bring hospital-grade results to your home
Once we receive your test, we'll send your physician-reviewed results in approximately 2-5 days.  4U Health at-home test reports are both accurate and easy to read. Feel free to use your results to understand if you're maintaining an adequate level of this important vitamin or share your report with your doctor to develop an appropriate treatment plan.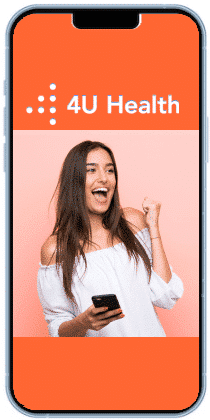 Digital Results
Usually within 2 to 5 days of your sample arriving at the lab, receive secure electronic results on your device of choice

Simple
Simple to understand results designed to measure your Vitamin D levels comprehensively.
Individualized
Your individualized report shows your Vitamin D2, D3, and Total Vitamin D 25-hydroxy levels.
Useful Results
Our hospital-grade results help you consider adding Vitamin D supplements to your daily routine. In addition, share your results with your doctor or nutritionist for additional guidance and treatment options.

Step 1
Order Your Test
Order online with express delivery. In 1 to 2 days your kit will arrive in plain packaging, ensuring a confidential testing experience.

Step 2
Collect Your Sample
Your kit contains everything you need to test from home. Simply collect your sample using the at-home testing kit and instructions. Then return free of charge to the lab with the provided prepaid shipping label.

Step 3
Fast, Accurate Results
Typically you will receive electronic results within 2-5 days after receipt by the lab. Have complete trust in your lab report's accuracy, as all 4U Health testing kits provide hospital-grade certified results.

Step 4
Get Physician Support
We've got you covered! A licensed physician orders your test and reviews your results. When medically necessary, our clinicians provide post-testing support to help you maximize our laboratory services.
Frequently Asked Questions
What's included in the at-home self-collection Vitamin D test kit?
You'll receive everything you need in order to self-collect your test specimen!
Pre-paid shipping both ways
Easy to follow instructions
An at-home blood drop collection kit (via an easy finger prick)
Return protective envelope to mail sample to the lab for testing
Electronic passcode protected results available from your phone or computer
Printable report to share with your doctor
Help along the way if you need it
What is Vitamin D?
Let's learn some science! Vitamin D is a fat-soluble vitamin that helps absorb calcium and phosphorous minerals. This characteristic plays a vital role in forming and maintaining strong bones and teeth, regulating normal immune system function, maintaining heart and lung health, and combating depression and other diseases. While produced by exposure to the sun, natural and fortified foods also contain Vitamin D.
Vitamin D is a nutrient your body needs for building and maintaining healthy bones. That's because your body can only absorb calcium, the primary component of bone when Vitamin D is present. Vitamin D also regulates many other cellular functions in your body. Its anti-inflammatory, antioxidant, and neuroprotective properties support immune health, muscle function, and brain cell activity.
Some foods containing Vitamin D include fortified milk, fortified cereal, and fatty fish such as salmon, mackerel, and sardines. Your body also makes Vitamin D when direct sunlight converts a chemical in your skin into an active form of the vitamin (calciferol).
The amount of vitamin D your skin makes depends on many factors, including the season, latitude, and skin pigmentation. Depending on where you live and your lifestyle, Vitamin D production might decrease or be completely absent during the winter months. Sunscreen, while helpful in preventing skin cancer, also can reduce Vitamin D production.
What will my test results show me?
Your results will tell you the concentrations of Vitamin D2 (found in some foods & supplements), D3 (derived from solar radiation & supplements), and Total 25-Hydroxy vitamin D (the sum of D2 + D3).
The reference ranges for your Vitamin D 25-Hydroxy test is quantified and categorized as the following:
Deficient:

(< 15 ng/mL)

Insufficient:

(15 to < 23 ng/mL)

Optimum:

(23 to 75 ng/mL)

Potential Toxicity:

(> 75 ng/mL)
Please note: The above reference ranges are for guidance only and are not a diagnosis. Although a result above 75 is typically considered elevated, multiple studies show Vitamin D toxicity is rare and usually only presents with a level greater than 125 ng/mL. Every patient has a unique medical history and symptoms. You should talk to your physician if your Vitamin D test results indicate a deficiency or elevation to determine your optimum Vitamin D concentration.
Who should not take this test?
4U Health's at-home Vitamin D Test is designed for individuals to measure concentrations to rule out deficiency and confirm adequate supply levels to maintain optimal health and well-being.
This test is not intended for the following individuals:
Specimens collected in New York State:

This test is not available for patient self-collection in NY.

Children under 2-years-old:

The test taker must be 2+ years old.
What are common symptoms of Vitamin D deficiency?
Vitamin D helps keep your body healthy and strong. If you have too much or too little, you may experience some of the following adverse symptoms:
Anxiety
Depression
Hair loss / thinning
Bone and back pain
Bone loss / bone fractures
Chronic whole-body pain
Fatigue and tiredness
Frequent illness or infections
Impaired wound healing
Joint pain
Muscle pain
Weight gain
Can I buy now and use this test later?
Test now or within one year of purchase. This kit has a guaranteed expiration date of at least 12 months. That's great news if you are buying more than one test to recheck yourself in the future or gifting to a friend or family member for later use.
Can I gift this test to a friend or family member?
All 4U Health tests are eligible for gifting. In fact, they make great presents. The recipient who receives your gift will simply open the kit, register it, and follow the collection instructions. Within a few days of sending to the lab, your friend or family member will receive secure electronic HIPAA compliant results all thanks to your generosity.
Where is my lab test performed?
4U Health tests meet national standards and are as accurate as services provided in a doctor's office or hospital. We only work with the highest quality CLIA certified laboratories and health experts. All testing complies with state and federal regulations. And our clinicians provide medical oversight throughout the entire process.
Will my Vitamin D Self-Collection Test be covered by insurance?
Pay upfront and receive no surprise medical bills. 4U Health is not enrolled in Medicare or any other private insurance network. This test is not eligible for Medicare or any other federal or state-funded insurance program reimbursement.
That's great news if you want to test more than once a year, as many insurance programs limit your frequency to vitamin D testing.
How is my privacy protected?
Rest assured; HIPAA web security protocols protect your data along every step of the way to finding out your Vitamin D level. Keeping your personal data secure is important to us. We only share your information where required to deliver our products and services or where we have a legal basis to do so. Your results are securely protected and available for review online; always secure but easily accessible only to you.
Can you provide links to technical documentation?
Still have questions about the test?
So you still have unanswered questions. No worries, we'd love to hear from you. Reach us by e-mail, phone or chat and we will do our best to provide answers so you can determine if this is the best test for you or your child.
PO Box 100083
Pittsburgh, PA 15233