Comprehensive Medication Response (PGx Gene Test)
At-Home Genetic Test To Check the Efficacy of Prescribed Medications
At Home Comprehensive Medication Response (PGx Gene Test)
$349.00
Description
Personalize your prescriptions to your genetics to identify medications that work best for you
4U Health's Comprehensive Medication Response Test analyzes 20 specific genes in your body known to impact the usefulness of 224 medications in the following categories: anti-cancer, cardiovascular, diabetes, gastrointestinal, infectious disease, pain management, psychiatry, rheumatology, transplantation, and urology.
Personalize your prescribed medicines with our most complete DNA medication response test. Learn if your unique gene makeup may impact the metabolism of your current or proposed prescriptions, which can increase the likelihood of an adverse drug reaction. Share your results with your prescribing physician(s) to help optimize medicines to increase the likelihood of a successful medical outcome.

Enjoy: 20% OFF | Get it for: $279.20
Use code at checkout: HEALTHY20
4U Health Comprehensive Medication Response (PGx Gene Test)
You want to match with the right medications based on your unique genetic profile
A medication response test can help reduce trial-and-error prescribing with personalized drugs and doses. Over 90% of the population has at least one actionable gene variant that may affect the usefulness of prescribed medications and cause side effects.1
Test to:
Discover which drugs may work more or less effectively for you
Learn which drugs may give you more or fewer side effects
Know in advance of being prescribed a medication if it's likely the best option for you
Analyzes 20 of your genes that may affect the usefulness of 224 prescribed medications
The 4U Health Comprehensive Medication Response Test may help you avoid taking medications that are not ideally suited to your genetic profile. We'll analyze 20 of your genes and provide information about which drugs across 10 medical specialties may require dose adjustments, be less likely to work, or have an increased risk of side effects.
Your report classifies 224 anti-cancer, cardiovascular, diabetes, gastrointestinal, infectious disease, pain management, psychiatry, rheumatology, transplantation, and urology drugs into three categories:
STANDARD PRECAUTIONS – Use as directed
USE WITH CAUTION – Moderate gene-drug interaction
CONSIDER ALTERNATIVES – Significant gene-drug interaction
This test might be right for you if:
You want a report you can share now or in the future with any pharmacist or physician to help increase the likelihood you are prescribed the best medication option
You are experiencing less than optimal results from currently prescribed medications
You are taking multiple prescription medications for multiple chronic conditions
You have a personal or family history of adverse drug reactions
You want to learn your genetic risk assessment for 9 cardiac and psychiatric diseases
Easily collect a DNA cheek swab from the comfort and privacy of your own home
Your DNA test kit includes everything required for your mouth swab sample. We provide detailed instructions and a prepaid shipping label to return your sample to the lab.
Parents, we've got you covered – test any child 2 years and older. Mouth swabs are easy and painless!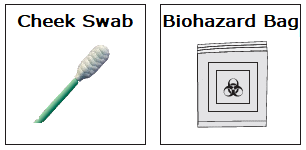 Our tests bring hospital-grade results to your home
Once we receive your test, we'll send your physician-reviewed results usually within 2-5 days.  4U Health at-home test reports are both accurate and easy to read. Your test includes a free telehealth result explanation. Feel free to use your results to identify any potential gene to drug interactions for current or proposed prescriptions. Prior to stopping any medications, share your results with your doctor or pharmacist to guide a discussion if a change in your treatment plan is appropriate.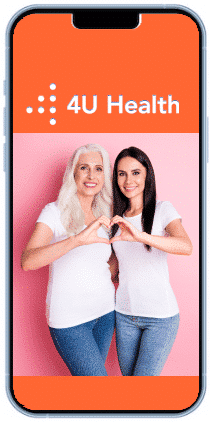 Digital Results
Usually within 2 to 5 days of your sample arriving at the lab, receive secure electronic results on your device of choice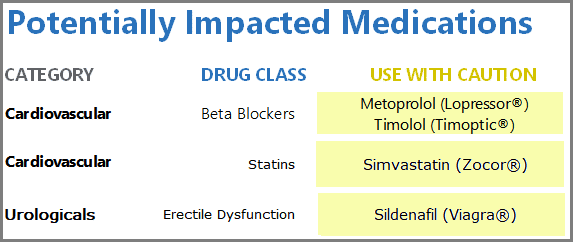 Simple
Simple to understand results to identify potential harmful drug to gene interactions.
Individualized
Your individualized genetic report ranks 224 medications to help guide current and future selection of medications that increase the likelihood of the best medical outcome.
Useful Results
Share your hospital-grade results with your doctors and pharmacist to eliminate trial and error prescribing – ensure the best selection of medicines to efficiently treat your symptoms while reducing risks of negative side effects.

Step 1
Order Your Test
Order online with express delivery. In 1 to 2 days your DNA collection kit will arrive in plain packaging, ensuring a confidential testing experience.

Step 2
Collect Your Sample
Your kit contains everything you need to test from home. Simply collect your cheek swab sample using the at-home testing kit and instructions. Then return free of charge to the lab with the provided prepaid shipping label. 

Step 3
Fast, Accurate Results
Typically you will receive electronic results within 2-5 days after receipt by the lab. Have complete trust in your lab report's accuracy, as all 4U Health testing kits provide hospital-grade certified results.

Step 4
Get Physician Support
We've got you covered! A licensed physician orders your test and reviews your results. Your test includes free telehealth result explanation to help you maximize our laboratory services.
Frequently Asked Questions
What's included in the at-home Medication Response (PGx Gene Test)?
You'll receive everything you need in order to self-collect your test specimen!
Pre-paid shipping both ways
Easy to follow instructions
An at-home DNA collection kit (via an easy cheek swab)
Return protective envelope to mail sample to the lab for testing
Electronic passcode protected results available from your phone or computer
Free telehealth result explanation
Printable report to share with your doctor
Help along the way if you need it
What will my test results show me?
Your pharmacogenetics (PGx) test results help you identify what meds work best for you. Eliminate trial and error prescribing. PGx testing gives you and your physicians genetic insight into your body's ability to process different drugs. This test provides empirical results to help you and your provider select the best medicine from the beginning to achieve the best medical outcome.
For medicines you are currently or considering taking, screen for:
Your body metabolizes the drug too rapidly, leading to potential adverse side effects of a standard dose.
Your body metabolizes the drug too slowly, leading to the medication not working as intended.
Hypersensitivity Drug Risk
Your body's genetic profile causes you to react severely to a typical drug dose.
We also analyze your genetic predisposition to having an increased risk for the following eight cardiovascular and psychiatric diseases:
Cardiovascular Genetic Disease Risk Assessment
Hyperlipidemia: Certain genetic variants are associated with elevated lipoprotein levels that can lead to an increased risk of atherosclerosis and cardiovascular disease.
Hyperlipoproteinemia Type III: The inability to break down fats (lipids) correctly.
Hyperhomocysteinemia-Thrombosis: Increased risk of venous thromboembolism (clots in the veins).
Thrombophilia: Abnormal blood clotting
Psychiatric Genetic Disease Risk Assessment
Antipsychotic-Induced Tardive Dyskinesia: Medication-induced uncontrolled spontaneous movements.
Antipsychotic-Induced Hyperprolactinemia: Elevated prolactin levels that can interfere with the functioning of reproductive, endocrine, and metabolic systems.
Antipsychotic-Induced Weight Gain: Increased risk for weight gain when treated with antipsychotics.
Hyperhomocysteinemia-Depression: Elevated homocysteine is a highly sensitive marker for low folate status (common in patients diagnosed with depression).
Your result includes a free telehealth report explanation to help you get the most out of your test.
Comprehensive Medication Response (PGx Gene Test) Sample Report
What drugs does the Comprehensive Medication Response Test cover?
4U Health's Comprehensive Medication Response Test informs you on the usefulness of 224 medications in the following categories: anti-cancer, cardiovascular, diabetes, gastrointestinal, infectious disease, pain management, psychiatry, rheumatology, transplantation, and urology.
Discover how your body is likely to metabolize this extensive list of drugs and use your results to learn which medicines may cause a good therapeutic or bad adverse outcome. For more information on which drugs this test covers, view full list of medications here.
What's a medication response pharmacogenomics (PGx) gene test?
Our comprehensive pharmacogenomics (PGx) test provides essential information on 20 genes which may affect metabolism and response to drugs across ten medical specialties – anti-cancer, cardiovascular, diabetes, gastrointestinal, infectious disease, pain management, psychiatry, rheumatology, transplantation, and urology. Clinicians can use the personalized information provided with this PGx test to help select the best medication and dose for an individual patient, limiting potential adverse drug reactions.
Drug Metabolism Genotyping
Also known as pharmacokinetics, this analysis predicts the body's impact on a drug. Its purpose is to determine patient-specific genetic variants that may influence the function of drug-metabolizing enzymes. It shows whether a patient is an ultrarapid metabolizer, extensive metabolizer, intermediate metabolizer, or poor metabolizer of a medication. Understanding your metabolizer phenotype is important, as it indicates how much of a drug may be active in the body to produce either therapeutic or toxic effects.
Drug Response Genotyping
Also known as pharmacodynamics, this analysis describes a drug's predictive impact on the body. It considers the likelihood of a drug producing the desired therapeutic effect by identifying patient-specific genetic variants involved in how medications work. This can indicate the likelihood of a good (therapeutic) or bad (adverse) drug response.
What's a drug-induced disease?
Clinicians prescribe medications to treat disease or alleviate symptoms. The last thing you might expect is that a prescribed medication may do more harm than good. An adverse drug reaction (ADR) refers to the unintended side effects of a prescribed medication. A drug-induced disease occurs when an ADR warrants a patient consulting a doctor or getting hospitalized.
ADRs and drug-induced diseases are a reality. FDA studies estimate that 7% of hospitalized patients have a severe adverse drug reaction.2 Drugs are approved by the FDA for use only if their potential benefits far outweigh the risks involved. But it's important to note not all people react similarly to a drug. A particular medicine may benefit some people while causing others potentially life-threatening unintended side effects.
A drug response test like this alerts patients and guides clinicians through the practice of personalized medicine. It allows prescribers to empirically select the best medications based on a patient's unique genetic traits. This test may increase the likelihood of an optimal therapeutic outcome and limit the chances of an adverse drug reaction.
What's personalized pharmacy therapy?
One of the transformative trends in medicine is personalized pharmacy therapy. With the advent of medication response PGx tests, physicians and pharmacists alike can individualize a patient's drug therapy consistent with that patient's unique genetic makeup.
Our Comprehensive Medication (PGx Gene Test) provides personalized medication guidance on 244 drugs in the following 10 therapeutic areas: anti-cancer, cardiovascular, diabetes, gastrointestinal, infectious disease, pain management, psychiatry, rheumatology, transplantation, and urology.
Does this test include result explanation?
This state-of-the-art genetic test includes at no additional charge result explanation by a healthcare professional to help you better understand your medication response report. We'll give you the information necessary to have an informed discussion with your physicians and pharmacists to get the most out of your results.
What genes does the Comprehensive Medication Response Test analyze?
This is our most complete medication response test and analyzes 20 genes to identify 244 medications for potential genetic induced adverse drug reactions.
Analyzes 20 Genes:
ANKK1, DRD2, Apolipoprotein E, COMT, CYP1A2, CYP2B6, CYP2C19, CYP2C9, CYP2D6, CYP3A4, CYP3A5, F2, F5, ITGB3, LPA, MTHFR, OPRM, SLCO1B1, TPMT, and VKORC1.
What factors commonly influence the body's response to a medication?
Multiple factors influence how a person reacts to a drug including:
Genetics
Age
Allergies
Medical History
Weight and Body Size
Who should not take this test?
The Comprehensive Medication Response (PGx Gene Test) is not suitable for the following groups of people:
Children under 2-years-old
Specimens collected in New York State
If you're experiencing a severe adverse drug reaction, such as difficulty breathing, vision problems, hives, fever, or vomiting, we recommend you speak with your healthcare provider right away.
Can I buy now and use this test later?
Test now or within one year of purchase. This kit has a guaranteed expiration date of at least 12 months. That's great news if you are buying now but want to test yourself in the future or gifting to a friend or family member for later use.
Can I gift this test to a friend or family member?
All 4U Health tests are eligible for gifting. In fact, they make great presents. The recipient who receives your gift will simply open the kit, register it, and follow the collection instructions. Within a few days of sending to the lab, your friend or family member will receive secure electronic HIPAA compliant results all thanks to your generosity.
Where is my lab test performed?
4U Health tests meet national standards and are as accurate as services provided in a doctor's office or hospital. We only work with the highest quality CLIA certified laboratories and health experts. All testing complies with state and federal regulations. And our clinicians provide medical oversight throughout the entire process.
How is my privacy protected?
Rest assured; HIPAA security standards protect your data every step of the way while determining your gene to drug responses. Keeping your confidential data secure is our number one priority. We only share your information when required to deliver our products and services or where we are legally obligated to do so. Your results are securely protected and available for review in your online portal; always secure but easily accessible only to you.
Will my Medication Response Test be covered by insurance?
Many physicians don't routinely order a medication response PGx Gene test. That's because DNA tests like this often require pre-authorization from insurance carriers. If denied, patients with insurance coverage may face unexpected medical bills often in excess of a thousand dollars.
With 4U Health you pay a fair price upfront and receive no surprise medical bills. 4U Health is not enrolled in Medicare or any other private insurance network. This test is not eligible for Medicare or any other federal or state-funded insurance program reimbursement.
Still have questions about the test?
So you still have unanswered questions. No worries, we'd love to hear from you. Reach us by e-mail, phone or chat and we will do our best to provide answers so you can determine if this is the best test for you or your child.
PO Box 100083
Pittsburgh, PA 15233