Detect Drugs & Alcohol in Saliva – Screen Without Leaving Home
At Home Drug Test, Saliva (54 Target)
$149.00
Description
Test like the pros! 4U Health's Saliva Drug Test checks for the presence and quantity of drugs in oral fluid using the most accurate method available. Our comprehensive test analyzes the exact concentration of 54 drugs, including alcohol, amphetamines, cannabis, cocaine, opiates/opioids, MDMA, & more. This definitive saliva drug test is much more accurate and informative than an over-the-counter rapid test:
– A detailed drug screen is helpful for pre-employment, legal, and parental concerns about suspected drug use
– Reports the concentration of each drug, rather than a simple positive or negative
– Utilizes the LCMS gold-standard methodology, employed by businesses, physicians, or any other entity that requires a precise result
Measures 54 drugs and drug metabolites
Simple at-home saliva collection
Available for ages 5+

Enjoy: 20% OFF | Get it for: $119.20
Use code at checkout: HEALTHY20
4U Definitive Saliva Drug Test (54 Target)
Here are several common reasons why someone may want to undergo a drug test:
Employment: Many employers demand a drug test as a condition of employment, especially for positions that require high safety or trust, such as transportation or healthcare.
Legal Requirements: Some people may be required to undergo drug testing as a condition of custody orders, probation or parole.
Personal Reasons: Some people may choose to undergo a drug test to monitor their own drug use and ensure they are not using drugs excessively or addictively.
Prevention: Parents may elect to use random or routine drug testing for their children to prevent the use of illicit drugs.
Theraputic Monitoring: Some people may choose to test a child or other family member to ensure they are taking medications – such as antidepressants – as prescribed.
The 4U Health Saliva Drug Test is one of the most comprehensive at-home definitive drug tests. Our test measures the presence and concentration of 54 drugs and drug metabolites found in urine by liquid chromatography-mass spectrometry (LCMS).
Liquid chromatography-mass spectrometry (LCMS) is the gold standard method for detecting the presence of drugs in a person's system. The test involves collecting a sample of urine and analyzing it using LCMS to identify the concentration of drugs that may be present. LCMS is a highly sensitive and specific method for detecting drugs, making it a reliable tool for drug testing. The results of the test are typically available within a few days and can be used to determine if a person has used drugs or to monitor their drug use over time.
4U Health Definitive Saliva Drug Test (54 Target) Sample Report
Easily collect a urine sample from the comfort and privacy of your own home
Your test kit includes everything required for safe and sanitary collection. We provide detailed instructions and a prepaid shipping label to return your sample to the lab.
Our tests bring hospital-grade results to your home
Once we receive your test, we'll send your physician-reviewed results in approximately 2-5 days.  4U Health at-home test reports are both accurate and easy to read. Feel free to use your results to avoid triggers or share them with your doctor so they can help determine an appropriate treatment plan.
The 4U Health Saliva Drug Test measures 54 drugs and drug metabolites found in urine. For a full list of targets, see our Drug Test Comparison.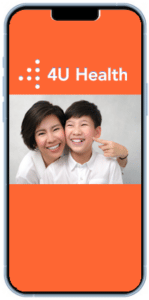 Digital Results
Usually within 2 to 5 days of your sample arriving at the lab, receive secure electronic results on your device of choice
Simple
Simple to understand results identify the presence of prescription and illicit drugs.
Individualized
Your individualized report measures the amount of 78 drugs and metabolites in urine.
Useful Results
Our hospital-grade results using LCMS are the gold standard for drug testing and are trusted by employers & courts.

Step 1
Order Your Test
Order online with express delivery. In 1 to 2 days your kit will arrive in plain packaging, ensuring a confidential testing experience.

Step 2
Collect Your Sample
Your kit contains everything you need to test from home. Simply collect your sample using the at-home testing kit and instructions. Then return free of charge to the lab with the provided prepaid shipping label. 

Step 3
Fast, Accurate Results
Typically you will receive electronic results within 2-5 days after receipt by the lab. Have complete trust in your lab report's accuracy, as all 4U Health testing kits provide hospital-grade certified results.

Step 4
Get Physician Support
We've got you covered! A licensed physician orders your test and reviews your results. When medically necessary, our clinicians provide post-testing support to help you maximize our laboratory services.
Frequently Asked Questions
Can I buy now and use this test later?
Test now or within one year of purchase. This kit has a guaranteed expiration date of at least 12 months. That's great news if you are buying more than one test to recheck yourself in the future or gifting to a friend or family member for later use.
Can I gift this test to a friend or family member?
All 4U Health tests are eligible for gifting. In fact, they make great presents. The recipient who receives your gift will simply open the kit, register it, and follow the collection instructions. Within a few days of sending to the lab, your friend or family member will receive secure electronic HIPAA compliant results all thanks to your generosity.
Where is my lab test performed?
4U Health tests meet national standards and are as accurate as services provided in a doctor's office or hospital. We only work with the highest quality CLIA certified laboratories and health experts. All testing complies with state and federal regulations. And our clinicians provide medical oversight throughout the entire process.
How is my privacy protected?
Rest assured; HIPAA security standards protect your data every step of the way while determining your respiratory allergies. Keeping your confidential data secure is our number one priority. We only share your information when required to deliver our products and services or where we are legally obligated to do so. Your results are securely protected and available for review in your online portal; always secure but easily accessible only to you.
Still have questions about the test?
So you still have unanswered questions. No worries, we'd love to hear from you. Reach us by e-mail, phone or chat and we will do our best to provide answers so you can determine if this is the best test for you or your child.
PO Box 100083
Pittsburgh, PA 15233