Comprehensive At-Home Food Sensitivity Test
Check Your Intolerance to 240 Foods With An Easy-To-Use At-Home Test Kit
At Home Food Sensitivity Test, Comprehensive 240 Target (IgG)
$299.00
Description
Try our most expansive food intolerance test
The 4U Health Comprehensive Food Sensitivity Test analyzes your body's reaction to 240 common foods and spices that may be causing stomach discomfort, headaches, tiredness, and other symptoms.

Use this food intolerance test to check your sensitivity to one of the most extensive sets of dietary ingredients available online – learn your IgG antibody response to help identify your problem foods.
IgG reactivity to 240 foods
Simple at-home finger prick collection
Available for ages 2+

Enjoy: 20% OFF | Get it for: $239.20
Use code at checkout: HEALTHY20
4U Health Comprehensive Food Sensitivity Test, 240 Target (IgG)
Your body's intolerance to certain foods may cause you to not feel like your best self
Start your journey to identifying problem foods that may be the root cause of the following symptoms:
Digestive
Bloating and indigestion, gastrointestinal distress, stomach or abdominal pain
Head
Acne, brain fog, headaches, and sinus congestion
Body
Bronchitis, fatigue, general feeling of discomfort, inflammation/joint pain, insomnia, and rash/skin problems
Check your body's response to a comprehensive set of 240 common foods
Help identify foods that may be causing you discomfort by measuring your blood concentration of specific IgG antibodies for a broad set of 240 foods. The test ranks each food on a Class scale from 0-4; Class 0 (normal reactivity) thru Class 4 (very high reactivity). Test findings can provide valuable clues as to which foods you may not tolerate well.

Easily collect a finger prick sample from the comfort and privacy of your own home
Your comprehensive food sensitivity test kit includes everything required for your tiny blood drop sample. We provide detailed instructions and a prepaid shipping label to return your sample to the lab.
Parents, we've got you covered – test any child 2 years and older. Finger prick collection is easy and painless; it's how most hospitals collect blood from newborns.

Our tests bring hospital-grade results to your home
Once we receive your test, we'll send your physician-reviewed results in approximately 2-5 days.  4U Health at-home test reports are both accurate and easy to read. Feel free to use your results to start an elimination diet on your own or share them with your doctor or nutritionist so they can help determine an appropriate treatment plan.
IgG Reactivity to 204 Foods
Our most expansive IgG intolerance test checks for 240 foods including dairy, eggs, fish, fruit, grains, meats, nuts, shellfish, vegetables, herbs, and spices.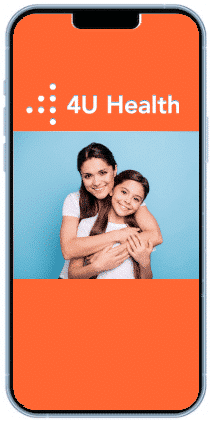 Digital Results
Usually within 2 to 5 days of your sample arriving at the lab, receive secure electronic results on your device of choice.

Simple
Simple to understand results designed to help you identify foods that may be causing you discomfort.
Individualized
Your individualized report ranks your tolerance to 240 foods to help identify potential sensitivities.
Useful Results
Our hospital-grade results can help you identify foods you may want to incorporate into a temporary elimination diet. In addition, share your results with your doctor for additional guidance and treatment options.

Step 1
Order Your Test
Order online with express delivery. In 1 to 2 days your kit will arrive in plain packaging, ensuring a confidential testing experience.

Step 2
Collect Your Sample
Your kit contains everything you need to test from home. Simply collect your sample using the at-home testing kit and instructions. Then return free of charge to the lab with the provided prepaid shipping label.

Step 3
Fast, Accurate Results
Typically you will receive electronic results within 2-5 days after receipt by the lab. Have complete trust in your lab report's accuracy, as all 4U Health testing kits provide hospital-grade certified results.

Step 4
Get Physician Support
We've got you covered! A licensed physician orders your test and reviews your results. When medically necessary, our clinicians provide post-testing support to help you maximize our laboratory services.
Frequently Asked Questions
What's Included in the At-Home Comprehensive Food Sensitivity Test Kit?
You'll receive everything you need in order to self-collect your test specimen!
Pre-paid shipping both ways
Easy to follow instructions
An at-home blood drop collection kit (via an easy finger prick)
Return protective envelope to mail sample to the lab for testing
Electronic passcode protected results available from your phone or computer
Printable report to share with your doctor
Help along the way if you need it
What is the difference between food allergy and food sensitivity testing?
IgG Food Sensitivity (Delayed Response)
A food sensitivity, sometimes called intolerance, is when the immune system produces specific IgG antibodies. These antibodies can lead to an inflammatory process and take up to three days after the consumption of a trigger food to manifest discernable physical symptoms. Use your food sensitivity test results as a guide to start a targeted temporary elimination diet to help eliminate or reduce your symptoms.
IgE Food Allergy (Immediate Response)
A food allergy is when the immune system produces specific IgE antibodies. These antibodies typically lead to an immediate allergic reaction that may even be life threatening. Within seconds or minutes of eating a trigger food, the symptoms appear instantly and may include severe swelling, breathing difficulty, rash, itching skin or even anaphylactic shock. Many allergies are mild and only manifest themselves intermittently, when the body experiences exposure to multiple allergens at the same time.
This is not a Food Allergy (IgE) Test. A Food Allergy IgE test is useful to help pinpoint acute allergic reactions. If you are interested in 4U Health's Food Allergy (IgE) Test, please click here.
Who should take the Food Sensitivity (IgG) Test?
This test may benefit people with physical symptoms possibly attributed to their diet and who are open to trying to eliminate certain foods to help feel their best. For people not knowing where to start, 4U Health's Food Sensitivity test measures your body's IgG immune response to foods and provides a road map to create a targeted temporary elimination diet.
What are common symptoms of food intolerances?
Food-induced intolerance symptoms can appear hours or days after consuming certain intolerable foods. If you are experiencing symptoms that you believe are related to food sensitivities, testing your body's antibody response to these 240 diverse foods may help identify the cause of your physical symptoms.
Possible Symptoms of a Food Intolerance:
Bloating
Indigestion
Gas
Gastrointestinal distress
Stomach or abdominal pain
Acne
Brain fog/trouble focusing
Headaches and migraines
Sinus congestion
Bronchitis
Fatigue
General feeling of discomfort
Inflammation/joint pain
Insomnia
Rash / skin problems
What will my test results show me?
Your food sensitivity results will show your antibody reactivity to a comprehensive list of 240 common foods. According to holistic medicine theories, a stronger reaction to a particular food increases the likelihood of possible food intolerance.
Please note it's also possible that elevated levels with some foods may not cause symptoms. As such, an IgG level is not a standalone definitive diagnosis. Only your doctor can definitively diagnose a food intolerance by considering your test results, symptoms, and complete medical history.
However, you know your body best and how well you feel. You can use your results to attempt a targeted elimination diet and add back one food at a time to confirm if your body can tolerate the identified highly reactive foods in your report.
Click here for a sample 240 – Comprehensive Food Sensitivity (IgG) Test report.
How do I create an easy elimination diet?
A temporary elimination diet is a tool to identify food sensitivities that may be causing you not to feel your best. Prioritizing foods you have a high IgG reactivity to is a great place to start. Although we recommend seeking guidance from a physician to supervise your elimination diet, many people successfully identify food triggers following the general principles listed below.
Step 1
Use your Food Sensitivity (IgG) Test results as a road map by starting with the most common foods you suspect may be causing your symptoms. Temporarily remove up to 4 of these foods at a time. After 21 days of avoiding certain foods, you should start feeling better if you hit on your trigger.
Step 2
Next, you add these "suspect" foods back to your diet, one at a time every 4 days, and watch for the appearance of symptoms.
If the reintroduction of a food does not cause a new symptom, then continue eating it as a normal part of your diet. If you add back all the eliminated foods and have no symptoms, temporarily take out up to 4 new foods from your diet and repeat step 2.
Conversely, if you get symptoms after adding an ingredient back to your diet, then you've likely identified a food sensitivity. You can stop the temporary elimination diet at that point or continue if you suspect more than one food is at fault.
Tips
Start by cutting out the foods with the highest reactivity level you consume most. Then move on to less common ones with lower reactivity levels to help you figure out your culprit faster.

Read food labels to see if packaged goods contain any ingredients you're temporarily avoiding. When eating out, ask the restaurant staff what's in the foods you order. Forms of gluten, dairy, and other triggers can hide in more places than you might think!

Recent research has found you can deprive yourself of nutrients if you cut out too many foods at once. Physicians do not advise eliminating more than 3 or 4 foods from your diet at any time without professional guidance.
Who should not take this test?
4U Health's 240 – Comprehensive Food Sensitivity (IgG) Test is designed for individuals to use their results to guide a temporary elimination diet with an add-back challenge to identify foods that may be causing unwanted symptoms. We do not recommend the use of the results of the Food Sensitivity Test to achieve weight loss.
This test is not intended for the following individuals:
History of eating disorders:

Food elimination diets may trigger a recurrence of disordered eating behaviors. For people with a history of anorexia nervosa, bulimia nervosa, binge eating, or any other related eating disorder, it is not recommended to utilize the test as part of a food elimination diet without the supervision of an attending physician.


Pregnant or breastfeeding women:

Expectant and nursing women have specific nutritional needs. For this reason, they should not utilize this test as part of an elimination diet without the supervision of a healthcare provider or nutritionist.


Specimens collected in New York State:

This test is not available for patient self-collection in NY.


Children under 2-years-old:

The test taker must be 2+ years old.
Results are not intended as a definitive diagnosis or to strictly limit your consumption of all reactive foods identified. Eating a balanced diet is important. Removing too many foods will inhibit your ability to obtain the necessary calories and nutrients from a balanced diet.
Can I buy now and use this test later?
Test now or within one year of purchase. This kit has a guaranteed expiration date of at least 12 months. That's great news if you are buying more than one test to recheck yourself in the future or gifting to a friend or family member for later use.
Can I gift this test to a friend or family member?
All 4U Health tests are eligible for gifting. In fact, they make great presents. The recipient who receives your gift will simply open the kit, register it, and follow the collection instructions. Within a few days of sending to the lab, your friend or family member will receive secure electronic HIPAA compliant results all thanks to your generosity.
Where is my lab test performed?
4U Health tests meet national standards and are as accurate as services provided in a doctor's office or hospital. We only work with the highest quality CLIA certified laboratories and health experts. All testing complies with state and federal regulations. And our clinicians provide medical oversight throughout the entire process.
How is my privacy protected?
Rest assured; HIPAA security standards protect your data every step of the way while determining your food intolerances. Keeping your confidential data secure is our number one priority. We only share your information when required to deliver our products and services or where we are legally obligated to do so. Your results are securely protected and available for review in your online portal; always secure but easily accessible only to you.
Will my food sensitivity test be covered by insurance?
4U Health is not enrolled in Medicare or any other private insurance network. That's great because Medicare and most other federal, state, or private insurance carriers do not cover IgG food sensitivity testing. Simply pay our affordable upfront rate and receive no surprise sky-high medical bills. This test is not eligible for Medicare or any other federal or state-funded insurance program reimbursement.
Still have questions about the test?
So you still have unanswered questions. No worries, we'd love to hear from you. Reach us by e-mail, phone or chat and we will do our best to provide answers so you can determine if this is the best test for you or your child.
PO Box 100083
Pittsburgh, PA 15233